A couple of days ago I had an interview with the Area Mai podcast, in which we took an in-depth look at my time as a footballer at Real Zaragoza. Below, I leave you a few questions and answers from the interview, and you can listen to the whole thing on this link.
It was 7 years in which I grew no end as a footballer, and as a person. My children grew up there, and I left there as a midfielder. They were important years in my life.
At the beginning of your career, you were a striker, weren't you?
My move to Real Zaragoza was a bit of a gamble. Ildo Maneiro, the Uruguayan manager at the club back then didn't have any tall strikers who were good in the air, so he suggested I came to Zaragoza. Things hadn't gone well for me in France, so the chance to go to La Liga in Spain was perfect for me.
In the first preseason match in Andorra, the manager saw that I didn't fit into a 4-4-2 formation as a striker, so I started to play as a speedster on the right, in the traditional number 8 role. I played a game against Cádiz in which I scored two goals playing as a striker.
Then Víctor Fernández arrived and in the second year he played in my position. The arrival of Darío Franco allowed me to play more freely, and I took advantage of this by becoming more of an attacking midfielder. 
You scored a lot of goals with your head…
My circumstances were very clear to me. As I was not physically fast, I had to be mentally fast, so I had to make decisions quickly and had to be well prepared. That's why I scored a lot of goals with my first touch, and the headers came from what I learnt as a striker: mobility, anticipation, knowing the player who was going to cross the ball, etc.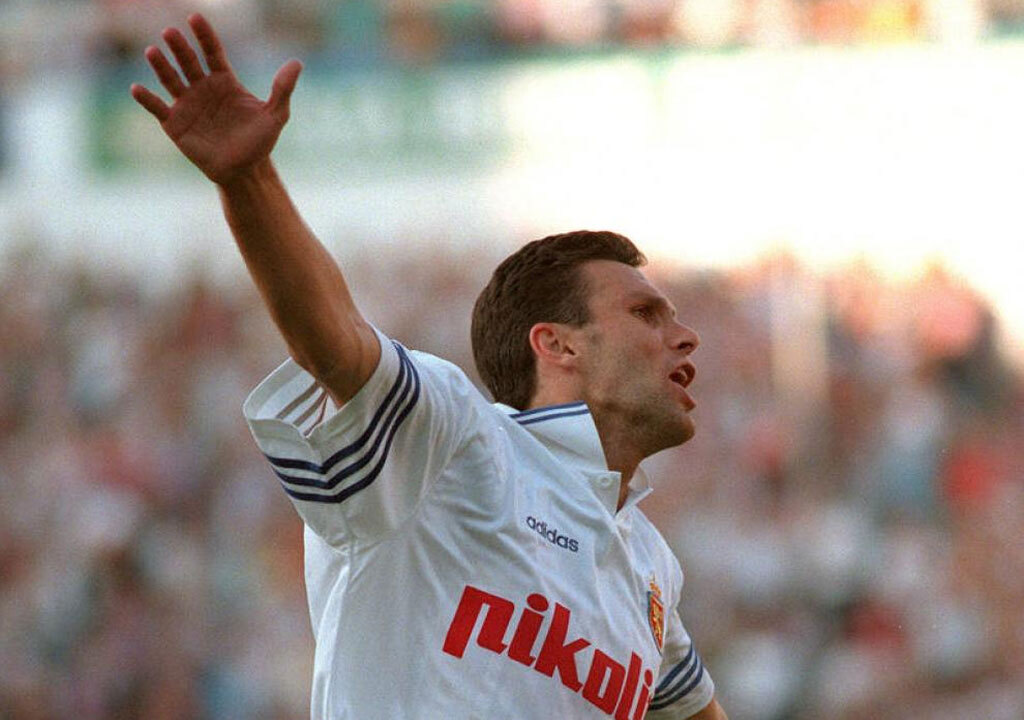 Which match would you go back to if you could?
I would go back to the 6-3 against Barcelona. 
When I arrived at Zaragoza, I think we lost the first match against Barça 0-2, the next one we lost 1-4 and then I think it was 1-6. We were going to play against them with the mindset that they would put 8 past us in the next game, and that we had tried everything possible to stop them… but for whatever reason, Ronaldo, Romario, Begiristain showed up…
In this 6-3 win, which was very well thought out, the plan finally worked. Esnáider was up against Koeman, who was not playing deep, making the most of other players' mobility, etc. 
Still, I would love to go back to the final 20 seconds in Paris (the 1995 UEFA Cup Winners' Cup Final), more so than any other match. It was such a unique event, there's no better way to finish a European tournament. 
They should put a plaque behind the goal in the Parc des Princes to commemorate Nayim's goal.
Has the chance to manage Real Zaragoza ever come up?
There have not been any real openings, but yes, I have spoken to the person who was in charge of the club in the past. At that point in time, I already had a job, so it wasn't possible. It was several years ago, but it wasn't the right time. It's not that I didn't want to go. 
The day I wanted to go the most was when Víctor Fernández left the first time, when the Argentinians were there. It was 2007 or 2008 and I had just started as a coach. I would have sorted out that dressing room, "give it to me I'll sort it", but to do that I would need the power to decide who stays and who goes.