A few days ago, Ovación Digital inspired me to create a team of the best players I have played with for both club and country. I had to give it a lot of thought, but this is the team I came up with.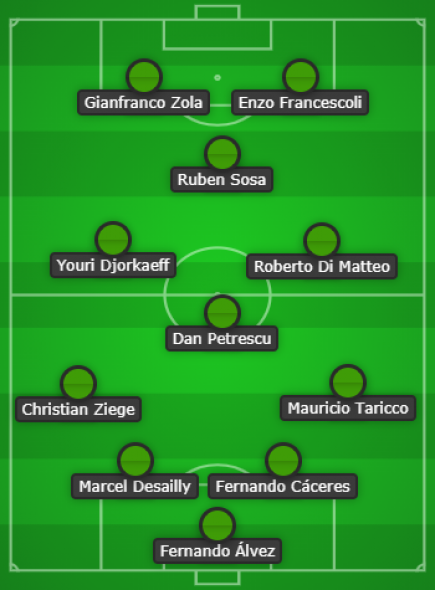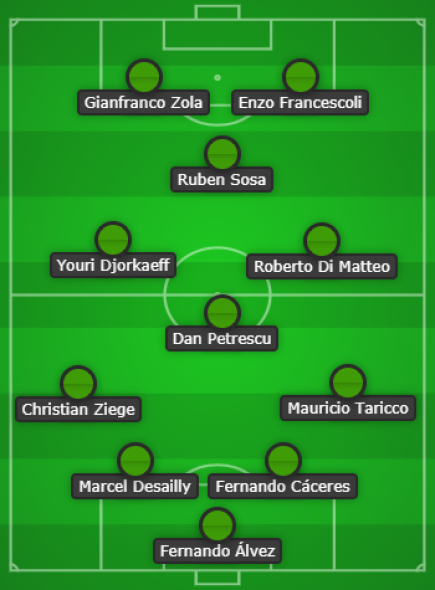 Goalkeeper
Fernando Alvez: I saw him when playing at Peñarol and I always thought he was a special player. Back then I really liked him as a fan, so since I got the chance to play with him and we won the Copa América together, that puts him ahead of all the other goalkeepers I played with. 
Defence
Mauricio Taricco: He is so influential in defence. On the one hand are his qualities and attributes (technically he is very gifted at looking after the ball but he's also tough when he needs to be) and on the other hand is the friendship we created off the field, which exists to this day as we currently work together. This is what makes him one of the best players I played with, and it's difficult to separate both sides. He is a friend for life.
Fernando Cáceres: A complete player. He could anticipate and read the play so well, he could get the ball away, and he would join the attack when it got cut off. The way we played at Zaragoza changed when he arrived.
Marcel Desailly: Physically imposing, he would impose himself upon the opposition; he was a strong defender with a simple game. A true winner and an animal in defence. On top of this, he won everything there was to win in football, there's nothing more to say.
Christian Ziege: Choosing the left side wasn't easy, there were many players who stood out for many different reasons, but I have gone for Christian. He had an exceptional left foot, with an amazing shot, he played in some great teams and he always gave it his all. A special player.
Midfielders
Dan Petrescu: There were also two reasons for his selection. His understanding of the game, his style of play and his decision making, but we also had a mutual understanding in all aspects of the game. He was very influential on my career.
Roberto Di Matteo: A footballing great. The complete midfielder on the ball and off the ball who scored goals in finals and was a good person. He had everything the team needs. He is still a great friend outside of football.
Youri Djorkaeff: I played with him when I was very young (at Grenoble) and I could see then that he was going to be a good player. Surprisingly, we didn't play together much but he made a lasting impression on me. 
Forwards
Rubén Sosa: Another position that was very difficult to choose. There were so many good players, but Rubén had a great career. The image he left behind everywhere he played, and what he did on the pitch set him apart from the rest. He loved playing football and entertained everyone.
Enzo Francescoli: I think I have said it all on Enzo. I just want to highlight two things: I am privileged to have played with him, and I always felt proud to be represented by him both on and off the pitch. Probably the best captain I had in my career. An IDOL.
Gianfranco Zola: Simply the best player I played with. We improved so much from playing with him. A phenomenon. I would put him above Francescoli just because I was with him every day for 4 years whereas I only played with Enzo a few times for Uruguay.